from WTOL
The board interviewed Deborah Hunter-Harvill, the former superintendent of a school district in Flint, Michigan. She says she wants to help lead the charge for school reform in Toledo.
REALLY? Has any board member checked the status of Flint Schools lately? Would she bring more of Obama style Hope and Change reform to TPS. One only has to look at Flint to see what Harvill's school reform has brought them:
"Flint residents lack the education needed to obtain available employment. In 2000, 25.5% of Flint residents aged 25 years and older did not have a high school diploma. While Flint public schools do post successful graduation rates, many of Flint's high school graduates are unable to attend college.Those who do often do not return to Flint after getting their degrees."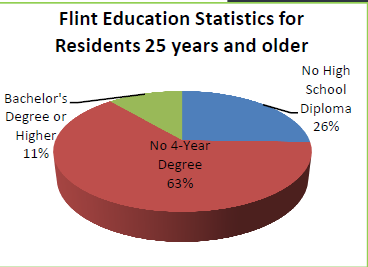 Is this the type of leadership TPS is looking for? If so Toledoan's can only expect things to get worse in the comming years and soon the schools and town will be boarded up just as Flint is now.